Santorini's Til it's Over, Over~ "Fred"
(CH Boulder Fulmine Detto Figaro JH (Figaro) x CH Quail Quest's French Kiss JH (Bisous))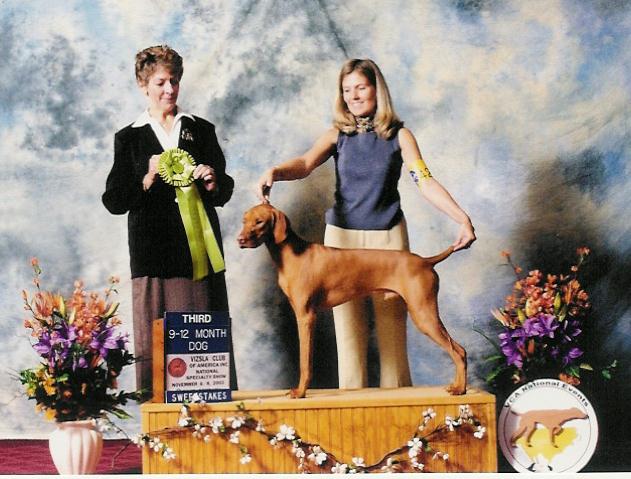 Newz Flash!
Fred is burning up the agility course... he recently won 1st place in the "I love Tables" competition & 2nd place in the "Fastest Downs" competition at his agility class
Vizsla Club of America National Events 2003 - Fred wins 3rd place in the 9-12 month puppy dog Sweepstakes
Loved & Spoiled Rotten by Jessica & Jason Borg ~ Bakersfield, CA
Bred by Anna & Fred Defenbaugh, Santorini Vizslas ~ Whelped January 13, 2003 ~ Neutered
Fred is an interesting combination of Bisous & Figaro ~ one minute he is the spitting image of his Dam, & the next, his sire.
He has a gorgeous head ~ soft features, but masculine... a typical 'pretty-boy' :-) Fred is nicely balanced with a correct topline, which shows in his beautiful movement ~ properly built front & rear which offer nice reach & drive.
Fred moved with his humans out to CA for a few years, & he will be sorely missed in the Carolinas! Despite living in the desert, he is learning agility & enjoying some field training. He is wild & crazy for 'fur & feather', one trait he definitely inherited from his folks!